About Your Local Dental Clinic

What We Do At Your Local Dental Clinic
We provide individualized, patient-centred care
Dental care here at Harbour Centre Dental, your local dental clinic, begins with a thorough evaluation and an emphasis on communication. Time is taken to fully explain our treatment recommendations and to field questions that each patient may have. It is critical that our patients feel confident and comfortable with their decision to undertake recommended dental treatment.
We are guided by ethical decision-making
Our treatment proposals are guided exclusively by what is in the best clinical interest of each patient.
We deliver results with skill and a gentle touch
The dentists at your local dental clinic have a dedicated and continued commitment to advanced study and coursework. Dentistry is an ever-evolving field that is heavily influenced by advancements in technology, material science and techniques. It is not good enough to provide the best dental approaches of even five years ago. We also recognize that knowledge and skill can only be put to the best use when there is an emphasis on patient comfort.
We provide a clinic that is calm, impeccably clean and equipped with modern technology
The interior of your local dental clinic takes you away from the bustle of the downtown core, with an aesthetic that is based on the natural world. Our team is selected to ensure a caring, gentle, and capable approach. We are sticklers for cleanliness and use hospital grade approaches for disinfection and sterilization. We continue to invest in advanced technology to deliver great results.
Harbour Centre Dental is proudly owned by Dr. Nilou Shirzad and Dr. Amin Shivji.

Harbour Centre Dental, your local dental clinic, is located at 555 W Hastings St in Harbour Centre (main entrance on W. Cordova St. between Seymour and Richards)
We're just a short walk from the Waterfront Skytrain station and close to many popular downtown spots.
Phone: (604) 669-1195
Address:
Harbour Centre Dental
555 W Hastings St L19, Vancouver, BC V6B 4N4
You can also take a Google Tour inside our office.
The Team At Your Local Dental Clinic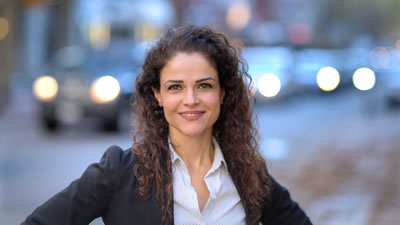 General Dentist
BSc. Hon, DMD
Dr. Shirzad is a graduate of UBC's Faculty of Dentistry, Class of 2002. Practicing for the past twenty years, she has a wealth of experience in all aspects of general, cosmetic and surgical dentistry. Dr. Shirzad combines her knowledge of the dental sciences with a keen eye for detail to maximize oral health and achieve beautiful results. Dr. Shirzad is committed to ongoing advanced and specialized training. She is a faculty club member with the renowned Spear Institute in Scottsdale, Arizona and a member of the American Academy of Clear Aligners. She regularly participates in local study clubs and has added training through several local and international surgical programs. Dr. Shirzad is a firm believer that dedication to continuous education is imperative in a field that is driven by ever-advancing technology, biomaterials and approaches to treatment.
Dr. Shirzad's commitment to technical excellence is matched only by her desire to act in her patients' best interest. Her practice philosophy revolves around patient education, where setting the best possible treatment plan is a collaborative process, involving both patient and dentist.
Dr. Shirzad is known for a chair-side manner is that is gentle and kind. She is also known to have a weakness for coffee, a love for the fine arts, and a complicated relationship with Lola, her mini-goldendoodle.
MEMBERSHIP:
Canadian Dental Association
BC Dental Association
BC College of Dental Surgeons
Faculty Club Member at Spear Dental Institute
American Academy of Clear Aligners

Outstanding Service, Patient-Focused Dentistry
Here at Harbour Centre Dental, your local dental clinic, we believe that a path to success can always be found.  Achieving optimal dental health and aesthetics is a possibility for anyone.  We understand that complex dental issues may create feelings of hopelessness that become a barrier to investigating the possibility of treatment.  Our dentists encourage anyone that is hesitant to explore treatment options to book an initial consultation.  We can show you how, with a customized treatment plan, the stages of your treatment can be prioritized and phased in a manner that is financially and emotionally comfortable.
Explore the possibilities. You really can enjoy a beautiful and healthy smile.
Technology At Your Local Dental Clinic

Digital Xrays
Relative to traditional xrays, digital xrays are patient-friendly and environmentally-friendly, utilising 50-80% less radiation and require no harmful chemicals to process. Additionally, digital xrays are electronically stored and available to our dentists at the touch of a button. Digital xrays also simplify the claims and insurance process.
VELscope Oral Cancer Screening Device
The VELscope is a blue-light oral cancer screening device that can help in the prevention of oral cancer. Early detection is key in the fight against oral cancer so book your oral cancer screening today. VELscope oral cancer screenings generally take 5-15 minutes and are non-touch and non-invasive, allowing your dentist to check for any lesions in your mouth not visible to the naked eye.
Intraoral Camera
Now you can see your smile as your dentist at Harbour Centre Dental sees your smile. The intraoral camera takes high definition photos of your mouth and shows you the impact of your oral health care routine on your teeth. As well, intraoral photos are ideal for communicating to insurance companies your need for any recommended treatment. They also show you how your smile has improved after dental treatments done at Harbour Centre Dental.
Free Wi-Fi for Patients
Harbour Centre Dental, your local dental clinic, is a patient-focused dental clinic and, as such, we offer you free wi-fi connectivity for all your business and browsing needs while at our dental clinic. Simply ask at reception for the login information.
Intra-oral Digital Scanner
The world of digital dentistry is advancing quickly. Gone are the days where messy, gag-inducing impression material must be used. Our digital scanner allows for precise impressions for crowns, bridges and night-guards. It is also an amazing tool to plan and monitor orthodontic treatment using Invisalign. Additionally, overlaying time-lapsed scans precisely shows changes in the dentition and gum-line, allowing for close monitoring of response to treatment and healing.

Due to regulatory changes from the CDSBC, the provincial body that regulates dentists and dental practitioners in BC, we are no longer allowed to publicize discounted services to our patients. However, through our network of 123 Dentist community dentists we often have contests which we will post here. When we do have offers, contests, or other permissible promotions, we will post them here.

We're Here to Answer your Dental Questions
How long does a new patient dental appointment take?
A new patient exam is 1 hour, during which relevant radiographic and photographic records are taken to allow for our dentist to diagnose any issues and create an appropriate treatment plan. Subsequent to the new patient exam, the initial hygiene appointment is also booked for 1 hour. In cases where clinical circumstances require it, a second appointment may be required in order to fully treat and complete the initial hygiene therapy.
Do you offer Invisalign® Treatment?
Harbour Centre Dental is proud to offer Invisalign treatment to our patients for a beautifully straight smile without metal braces. Learn more about Invisalign treatment.
Why are Oral Cancer Screenings important?
Oral cancer screenings can help prevent oral cancer by allowing early detection of skin changes before these changes reach the cancerous stage. Please click here to learn more.
Please contact our office for availability.
I am scared of going to the dentist. Can you help make my treatment easier?
Absolutely! Apart from the fact that our dentists have a gentle and caring touch, we can provide very effective anti-anxiety methods of sedation. Please refer to our Sedation Dentistry section for more information.
Do you accept my dental insurance plan?
As a service to our patients, we will communicate with most dental insurance companies on your behalf, however, any outstanding balances are ultimately the patient's responsibility.
If you have a question for Harbour Centre Dental, please contact us today.