About Your Vancouver Dentist

Why Harbour Centre Dental?
At Harbour Centre Dental, we have built our practice around one central principle: to provide our patients with outstanding service and exceptional care. This commitment defines every element of our practice and our relationship with our patients. It is the reason our patients come to us and collaborate with us to achieve dazzling smiles and optimal oral health.
Expertise
We take smiles seriously. Our dentists have invested hundreds of hours of their time completing advanced dental course work to remain on the leading edge of dental practice. We provide superior care in a wide range of areas, including cosmetic and restorative dentistry. We take great pride in our work and we provide our services efficiently, comfortably and affordably. For us, the details matter.
Comfort
Why shouldn't your dental appointment be characterized by beauty, comfort and calm? We believe it should be. Our modern office was professionally designed to reflect the simple, clean aesthetic of the natural world. Leave the bustle of the city outside and enjoy the view of the ocean and mountains before your appointment starts. Our exceptional team will ensure you are comfortable and relaxed.
Modern Technology
Our office is built on the most advanced dental technologies and materials available. Our technology allows us to partner with you to achieve optimal health and outstanding aesthetic results.
Read more about our technology.
Social Responsibility
We believe a successful dental practice not only provides excellent care for its patients, but contributes to positive change in the community. For this reason, Harbour Centre Dental is committed to supporting local and international health care initiatives.
Student Care Dental Network
We're also very proud to participate in the Student Care Dental Network. If you're a student, talk to us about how this may help you.
Harbour Centre Dental is proudly owned by Dr. Nilou Shirzad, Dr. Mehrdad Ezzati, and Dr. Amin Shivji.

Our Principal Dentist, Dr. Nilou Shirzad, Welcomes You
Dear Visitor,
It is with great pleasure that I welcome you to the brand new Harbour Centre Dental. My name is Dr. Nilou Shirzad and I'm a graduate of the University of British Columbia's Faculty of Dentistry. I have been providing a full range of cosmetic and restorative dental services to my patients for more than ten years.
For me, dentistry is a passion. I have taken and continue to take countless hours of advanced study and coursework in numerous areas of general dentistry including periodontal surgery, oral surgery and complex restorative dentistry. I am fully committed to training with the latest techniques, materials, and technologies available. But really, one of the most enjoyable parts of my practice is getting to know my patients and treating each one with individualized care.
In my years of practice, I have learned a great deal about what my patients want in their dentist. I have focused on perfecting my practice to deliver a warm, positive and comfortable experience. I am genuinely excited to say that every detail in our modern practice has been put in place to achieve these goals. Let me tell you a bit about it.
We have a beautifully renovated office space designed to provide you with a calm, serene environment from the moment you walk in the door. We have assembled an exceptional team of professionals that work together to understand your specific needs, provide you with treatment options, and partner with you to achieve optimal health and aesthetics in a timely and affordable way. Finally, we have invested in the most advanced dental technology available: digital radiography (to enhance X-ray resolution and to significantly reduce radiation exposure); hospital standard sterilization equipment (to ensure your safety); the most advanced materials to provide long-lasting, beautiful results; and inhalation and oral sedation options for those patients that need them.
It's one thing for me to describe our new team and office, but I would be delighted for you to come in and experience it for yourself. Give us a call, contact us online or feel free to stop by our West Hastings dental clinic to book an appointment.
I look forward to meeting you.
Yours sincerely,
Dr. Nilou Shirzad, D.M.D.

We are located at 555 W Hastings St in Harbour Centre (main entrance on W. Cordova St. between Seymour and Richards)
We're just a short walk from the Waterfront Skytrain station and close to many popular downtown spots.
Phone: (604) 669-1195
Address:
Harbour Centre Dental
555 W Hastings St L19, Vancouver, BC V6B 4N4
You can also take a Google Tour inside our office.

Our mission at Harbour Centre Dental is to make you smile.
We aim to provide you with the highest standard of dental health care available. Our approach is to listen to our patients and deliver superior quality results with skill, care and compassion.
Our team will offer you the most advanced 
techniques, technologies and materials to
 achieve optimal, health and aesthetics.
Finally, we aim to provide you with an atmosphere of serenity, beauty and comfort, to ensure that your experience is exceptional.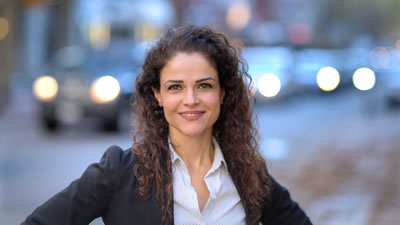 Dr. Shirzad is a graduate of UBC's Faculty of Dentistry, one of Canada's top dental programs. Practicing for more than fifteen years, she has a wealth of experience in all aspects of general, cosmetic and surgical dentistry. Dr. Shirzad combines her knowledge of the dental sciences with a keen eye for detail and aesthetics to provide patients with optimal health and beautiful results. This high level of service is only possible because of Dr. Shirzad's passionate enthusiasm and commitment to advanced training. Over the past 15 years, Dr. Shirzad has immersed herself in hundreds of hours of specialized clinical training with the renowned Spear Institute in Scottsdale, Arizona, with study clubs conducted by leading instructors and local and international surgical programs. She is a firm believer that dedication to advanced and continuous training is imperative in a field that is driven by ever-advancing technology, biomaterials and approaches to treatment.
Dr. Shirzad's commitment to technical excellence is matched only by her professional integrity and a genuine desire to act in her patients' best interest. Her practice philosophy revolves around patient education, where setting the best possible treatment plan is a collaborative process, involving both patient and dentist.
Dr. Shirzad is known for a chair-side manner is that is gentle, caring and kind. She is also known to have a weakness for lattes, an interest in Zumba, and a complicated relationship with Lola, her mini-goldendoodle.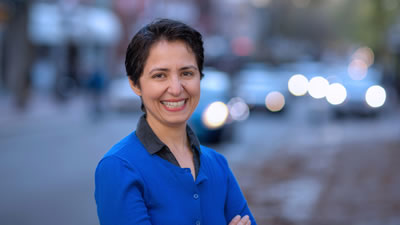 Dr. Izad has a sincere passion for providing her patients with first rate treatment and care. She loves dentistry as it brings together her chief interests: intricate science, design, and meeting new people. Since graduating from the UBC School of Dentistry in 2002, she has enrolled in numerous advanced dental courses in both Canada and the U.S., providing her with substantial knowledge and experience in endodontics, cosmetic dentistry, prosthodontics, periodontics, implantology, orthodontics (both traditional braces and Invisalign) as well as sedation dentistry. Dr. Izad keeps abreast of the latest dental advancements and implements them in her daily practice. Classmates with Dr. Shirzad in dental school, the two have maintained a strong friendship and share a practice philosophy that centres around patient care, excellent results, and ethical practice.
Dr. Izad is a firm believer in giving back to her local community and contributing to international humanitarian work. She has contributed her time and skills to both "dental days" in the Lower Mainland in which free dental services were provided, as well as international dental projects, providing treatment in countries such as Peru, Venezuela, and Cambodia. Her free time is spent with her energetic husband (also a dentist) and two children, hiking the beautiful trails of the North Shore, skiing, swimming, or sharing a good homemade meal with family and friends.

Outstanding Service, Patient-Focused Dentistry
Questions about our dental financing plans?
Student dental plans?
Dental insurance?
Hours?
Payment options?
Dental services?
Our team at Harbour Centre Dental are here to help you. Contact us with any questions or if you would like to book an appointment.

Digital Xrays
Relative to traditional xrays, digital xrays are patient-friendly and environmentally-friendly, utilising 50-80% less radiation and require no harmful chemicals to process. Additionally, digital xrays are electronically stored and available to our dentists at the touch of a button. Digital xrays also simplify the claims and insurance process.
VELscope Oral Cancer Screening Device
The VELscope is a painless, blue-light oral cancer screening device that can help in the prevention of oral cancer. Early detection is key in the fight against oral cancer so book your oral cancer screening today. VELscope oral cancer screenings generally take 5-15 minutes and are completely painless and non-invasive, allowing your dentist to check for any lesions in your mouth not visible to the naked eye.
Intraoral Camera
Now you can see your smile as your dentist at Harbour Centre Dental sees your smile. The intraoral camera takes high definition photos of your mouth and shows you the impact of your oral health care routine on your teeth. As well, intraoral photos are ideal for communicating to insurance companies your need for any recommended treatment. They also show you how your smile has improved after dental treatments done at Harbour Centre Dental.
Free Wi-Fi for Patients
Harbour Centre Dental is a patient-focused dental clinic and, as such, we offer you free wi-fi connectivity for all your business and browsing needs while at our dental clinic. Simply ask at reception for the login information.

Due to regulatory changes from the CDSBC, the provincial body that regulates dentists and dental practitioners in BC, we are no longer allowed to publicize discounted services to our patients. However, through our network of 123 Dentist community dentists we often have contests which we will post here. When we do have offers, contests, or other permissible promotions, we will post them here.

We're Here to Answer your Dental Questions
How long does a new patient dental appointment take?
Generally, new patient appointments at Harbour Centre Dental take about 1.5-2 hours, depending on your smile needs and your lifestyle goals.
Do you offer Invisalign® Treatment?
Harbour Centre Dental is proud to offer Invisalign treatment to our patients for a beautifully straight smile without metal braces. Learn more about Invisalign treatment.
Why are Oral Cancer Screenings important?
Oral cancer screenings can help prevent oral cancer by allowing early detection of skin changes before these changes reach the cancerous stage. Please click here to learn more.
When are you open?
-
-
-
-
-
- 2 per month
Closed
Please contact our office for availability.
I am scared of going to the dentist. Can you help make my treatment easier?
Absolutely! Apart from the fact that our dentists have a gentle and caring touch, we can provide very effective anti-anxiety methods of sedation. Please refer to our Sedation Dentistry section for more information.
Do you accept my dental insurance plan?
As a service to our patients, we will communicate with most dental insurance companies on your behalf, however, any outstanding balances are ultimately the patient's responsibility.
If you have a question for Harbour Centre Dental, please contact us today.