What We Do At Your Downtown Dental Clinic
We like to get to know our patients and understand their unique health-related and aesthetic goals.
We are guided by integrity and a patient-centered approach.
We deliver results with skill and a gentle touch.
We provide a clinic that is calm, impeccably clean and equipped with modern technology.
Your Downtown Dental Clinic Dentists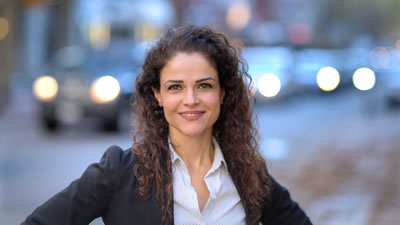 General Dentist
BSc. Hon, DMD
Dr. Shirzad is a graduate of UBC's Faculty of Dentistry, Class of 2002. Practicing for the past twenty years, she has a wealth of experience in all aspects of general, cosmetic and surgical dentistry. Dr. Shirzad combines her knowledge of the dental sciences with a keen eye for detail to maximize oral health and achieve beautiful results. Dr. Shirzad is committed to ongoing advanced and specialized training. She is a faculty club member with the renowned Spear Institute in Scottsdale, Arizona and a member of the American Academy of Clear Aligners. She regularly participates in local study clubs and has added training through several local and international surgical programs. Dr. Shirzad is a firm believer that dedication to continuous education is imperative in a field that is driven by ever-advancing technology, biomaterials and approaches to treatment.
Dr. Shirzad's commitment to technical excellence is matched only by her desire to act in her patients' best interest. Her practice philosophy revolves around patient education, where setting the best possible treatment plan is a collaborative process, involving both patient and dentist.
Dr. Shirzad is known for a chair-side manner is that is gentle and kind. She is also known to have a weakness for coffee, a love for the fine arts, and a complicated relationship with Lola, her mini-goldendoodle.
MEMBERSHIP:
Canadian Dental Association
BC Dental Association
BC College of Dental Surgeons
Faculty Club Member at Spear Dental Institute
American Academy of Clear Aligners

General Dentistry
The foundation of good dentistry is a preventive approach. Regular check-ups and cleanings help ensure optimal health of the gums and underlying bone. They also facilitate identification of problems when they are small, before these problems have a chance to become more complex. Treatment of simple dental issues is always easier, less expensive and less destructive to the natural dentition. Good dental care begins with regular check-up and cleanings at your downtown dental clinic.
Surgical Dentistry
Our dental team can provide the advice, recommendations, and treatment you need. We are equipped to provide extractions, implants and gum surgery when needed here at your Downtown dental clinic.
Cosmetic Dentistry
Once the solid foundation of healthy gums and teeth is achieved, our Vancouver dental team can provide you with aesthetic enhancements such as Invisalign orthodontic corrections, whitening and veneers. From simple cosmetic cases to full-mouth restorations, our Vancouver dental team here at your Downtown dental clinic, can provide beautiful and durable solutions.